As I sit here 14 stories above 4th Avenue in Seattle, waiting for the Seahawks Superbowl Parade to start, I can't help but think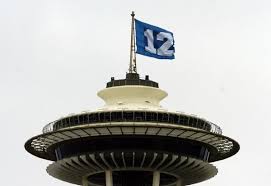 about why the Seattle Seahawks remind me of the ultimate Team. Whether you're in a startup, working in a larger organization or a weekend warrior on some co-rec sports Team, you'll appreciate some of the critical lessons that I've learned about successful Teams.
I initially had '12' bullets for this post, in honor of the 12th man of course, but felt that was too corny, so just highlight the critical ones I've observed.
Fanatical Focus on the Customer:  The Seahawks as an organization, from management to the players and everything in between, fully understand how important their customers (the fans) are.  You can sense it in how they talk about the 12th man, their affinity for the 12th man, and how they react to the 12th man. Living here in Seattle, you just feel that the Seahawks (and the Sounders for that matter) truly want to perform and deliver for their ultimate customers…the fans.
Emphasis on a Core Competency:  The  Seahawks know that they have a good defense.  When Pete Carroll took over as Coach, he was adamant about focusing on defense. The Team knew that their defense was better than others and they played to that strength.  They knew they had a strong defense and they weren't going to shy away from utilizing that competency. It's the focus on defense (their core competency) that eventually led to them winning the SuperBowl.
Allowing Team Members to be themselves:  Good Teams are able to come together for the greater good of a Vison/Goal without sacrificing  the individuality of team members.  It's important to allow people to be themselves, to not force them to conform and to let their true personalities shine.  You gotta let people be who they are.  You want team member to be free in their thinking, to not be afraid to take risks and to not be afraid of failure.
There Is No 'I' in Team: The Seahawks don't have any superstars on their Team, at least not yet.  There's no focus or spotlight on one individual player (I don't count Sherman's interview as that's more of an anomaly).  Everybody's in it to win and to deliver to their customers. In strong Teams, individuals don't care so much about titles, or being called out for their accomplishments. They care about winning, accomplishing goals and doing it together.
Value Having Fun:  Every company wants  to believe that 'Having Fun' is a core value, but that's rarely the case. It takes a special leader who's adept ad building the right Team and creating the right culture to truly develop a 'fun' working environment. I have no idea what it's like in the Seahawks locker room, but you just get the sense that these guys have fun on and off the field.  They truly like one another (so it seems) and you can just feel it. That's not the case with most Teams, but it's a value that I think is imperative to success.
There will be 500,000 people lining the streets of 4th Avenue within the next 90 minutes. Looking out my window now, I can see thousands of fans dressed in Seahawks jerseys, waving 12th man flags and lining up to watch the parade.  Granted, the Hawks won the SuperBowl so it's a big deal. But if asked, I'm taking  a wild guess that the 12th man would show up for any Seahawks parade, even if they hadn't won the SuperBowl.  The fans are that satisfied with the product.
John