I spent the last week in Tallinn, Estonia attending the Startup Nations Summit and the European Commission's SME Assembly. The conferences, respectively, were meant to bridge the gap between public policy makers and entrepreneurs and to bring entrepreneurial ecosystem builders from across Europe together to share insights, lessons learned and challenges. Pretty worldly stuff.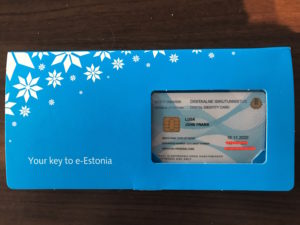 While in Tallinn, I picked up my Estonian E-residency, which essentially makes it legal, and easy, for me to not only run a business anywhere within the European Union but to also access some of the unbelievable digital services available through the Estonian government. I'm not going to go in to just how digitally savvy, innovative, transformative and forward-thinking Estonia is when it comes to all things digital (just google it), but I will highlight a few reasons why I applied for E-residency:
Establishing a business in Europe: With my e-residency, it's super-easy to establish a business in the EU, making it much easier to work with my Lusk Group European clients (Note: the service is aimed at digital nomads, consultants and 'smaller' businesses that don't have deep-pocket administrative resources).
Conducting banking online: With a bank account (which I can open online) I can now make, and take, European based payments via bank transfer (no more wiring).
Documents: I can now sign legal documents, all digitally,

 

with the company and with external partners. I can also verify the authenticity of these signed documents
Taxes: I can declare, and pay, taxes online (of which there are no corporate taxes unless I'm declaring dividends).
Unless you're an early adopter, think having e-residency is cool, or plan on conducting business in Europe, there's really no point in applying for e-residency.  But if you've got a US-based business that's looking to scale into European Markets, Estonian e-residency is probably the fastest, safest and most efficient way of entering those markets.
Bottom line: It's pretty damn cool. Even if I only scratch the surface in terms of utilizing all of the benefits of e-residency, it's exciting to know that I have an entire continent (28 countries) of opportunity awaiting.
If you have any questions about the process or want to know more about my rational for obtaining e-residency, please feel free to ask in the comments.